Fortus 900mc / F900 3D Printer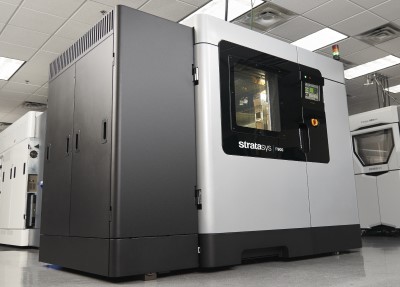 The Stratasys Fortus 900mc/F900 3D printing system incorporates the latest in innovative technologies to provide precision prototypes from a CAD design. Stratasys' Fused Deposition Modeling (FDM) technology provides prototype parts, including internal features, that can be used to field-test form, fit, and function.
The Stratasys Fortus 900mc/F900 3D printing system has a vacuum platen is adapted for use with two build sheet sizes; The small sheet is 16 in. (40.6 cm) X 18.5 in. (47.0 cm) X 0.02 in. (0.05 cm) thick, and the large sheet is 26 in. (66.0 cm) X 38 in. (96.5 cm) X 0.02 in. (0.05 cm) thick. The envelope size is 36 in. (91.4 cm) wide X 36 in. high (91.4 cm) X 24 in. (60.96 cm) deep. The printer has four material bays; two for model and two for support.
AC Power Requirements

50 Hz or 60 Hz
230VAC
40 Amp circuit
34 Amp full load current on all three phases
LAN Requirements

Required for communication and file transfer functions.
Category 5 or better
10/100 Base T Ethernet, RJ45 connector.
As Needed Maintenance - F900
Loading and Unloading Material - F900
Featured Case Studies

General Motors Hemming - EN FDM Use Case
General Motors (GM) is a world leader in the development of transportation innovations that include electric cars and self-driving vehicle technology. Headquartered in Detroit, Michigan, GM serves six continents with 164,000 employees.
Find out General Motor reduced its cost by using 3D printing.
Read the case study here.

IDEC and Wehl - EN FDM Case Study
Aerospace Case Study: IDEC is a leading Spanish provider of composite solutions for the aerospace industry, servicing its customers' design and manufacturing needs. With the help of advanced manufacturing service bureau, Wehl & Partner, the company embarked on a project to increase its competitiveness by reducing the time, cost and material waste of traditional composite molding.
Read the case study here.