F123 CR Series: F190CR & F370CR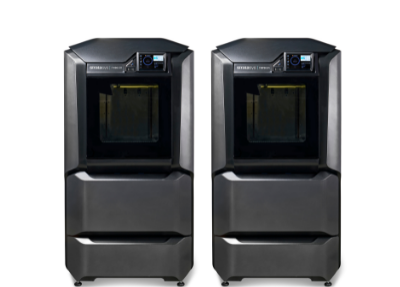 The F123CR (Composite Ready) Series consists of the F190™CR and the F370®CR, two composite printers that offer high-strength carbon fiber materials in a reliable, user-friendly industrial printer platform.
The F190CR printer has a maximum build area of 12 x 10 x 12 in. (305 x 254 x 305 mm) with 2 material spool bays, 1 for model and 1 for support.
The F370CR printer has a maximum build size of 14 x 10 x 14 in (355 x 254 x 355 mm) and 4 material spool bays, 2 for model and 2 for support, with auto-changeover.
AC Power Requirements

50/60 Hz.
Voltage: 100-132, 200-240 VAC.
Current: 15/7A.
LAN Requirements

Wired: TCP/IP protocols at 100 Mbps minimum 100 base T,
Ethernet protocol, RJ45 connector.
Wireless-ready: IEEE 802.11n, g, or b.
Authentication: WPA2-PSK, 802.1x EAP.
Encryption: CCMP, TKIP.
F123 Series - Replacing the LCD display
Learn how to replace the LCD touchscreen on F123 Series printers.
Tip Shield Replacement - F123 Series