F3300 Additive Manufacturing System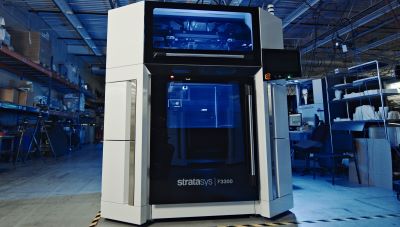 F3300™ embodies advanced FDM® technology to minimize labor and maximize economics. Lower your production costs and print in half the time compared to legacy fused deposition 3D printers.
Advancements include linear motors and encoders for fast, precise extruder movement, four extruders with a patented automatic tool (extruder) changer for multi-resolution printing and system redundancy, material dryers for optimal material characteristics, and autocalibration to reduce labor and operator input.
The Stratasys F3300 additive manufacturing system has a 23.6 in. (60cm) x 23.6 in. (60cm) x 31.5 in. (80mm) build tray. It has four material spool bays feeding four extruders; mix-and-match model or support and independently controlled onboard material dryers. The four material bays each hold large 250 cu in. (4,100 cc) spools which total 1,000 cu.in. (16,400 cc) when fully loaded. The large material capacity provides sufficient material for uninterrupted longer build times.
AC Power

50 Hz or 60 Hz
208V
3 PH
30 Amp circuit
5-wire (L-L-L-N-G)

LAN Requirements

Required for communication and file transfer functions.
Category 5 or better
10/100 Base T, Ethernet Protocol, RJ45 connector, IPv6

Facility Requirements

Compressed Air: 90-110 psi with 13 CFM minimum flow

Materials
Applications

Obsolete Part Replacement
Spare parts