Stratasys FDM Certification for AM Engineers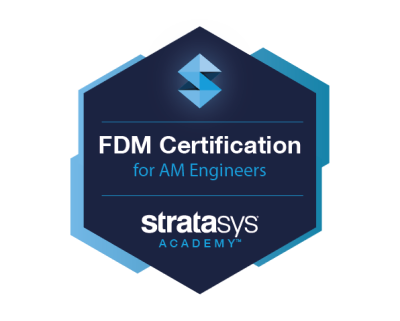 Duration
2 days
Participants
The group of attendees is limited to 6 participants.
Location
Currently offered in North America (Eden Prairie, Minnesota) and Europe (Baden-Baden, Germany) offices.
Prerequisites
Online program on Stratasys Academy Learning Management System with the following mandatory items:

Stratasys FDM Materials
Stratasys 3D Printing Software
Stratasys Applications
Production Parts
Manufacturing Aids: Jigs & Fixtures
Design for Additive Manufacturing Using FDM

Instructor-led training with remote delivery option:

Advanced Insight and File Preparation
Successful completion of the above prerequisites will entitle participants to register to the in-person, face-to-face certification course at Stratasys regional training centers.
Training Language
Target Audience
Training Description
The purpose of this course is to equip AM Engineers with the knowledge needed to optimize the use and output of their Stratasys FDM printers. You will learn about design guidelines, preparing parts for printing, and advanced troubleshooting.
The program consists of:
A 2-day training event at Stratasys with an expert trainer
A final certification exam
Objective of this Training
By the end of this course, participants will be able to:
Design a model in FDM
Identify which materials are best suited for a desired application
Run an end-to-end workflow from pre-printing considerations to post-processing and finishing
Design movable parts and experiment with them
Choose and adjust printer settings per print to fulfill use case requirements
Understand the considerations for optimizing end parts
Become familiar with topology and support considerations
Troubleshooting design issues in CAD files
Upon successful completion of the certification training, participants will have an advanced understanding of a key AM technology and be able to design parts in a way that maximizes and optimizes part quality, strength, material consumption, and production time.
Contact Info
For more details and registration: