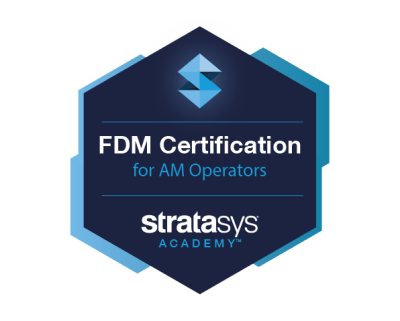 Duration
2 days
Participants
The group of attendees is limited to 6 participants.
Location
Currently offered in North America (Eden Prairie, Minnesota) and Europe (Baden-Baden, Germany) offices.
Prerequisites
Online program on Stratasys Academy Learning Management System with the following mandatory items:

Machine Operations for F123, F770 and F900
GrabCAD Print Workflow for FDM Printers
Stratasys FDM Materials
Stratasys Applications
Production Parts

Instructor-led training with remote delivery option:

Advanced Insight and File Preparation
Successful completion of the above prerequisites will entitle participants to register to the in-person, face-to-face certification course at Stratasys regional training centers.
Training Language
Target Audience
Training Description
The purpose of this course is to equip AM Operators with the knowledge, skills and hands-on experience to expertly manage and run their Stratasys FDM printers. You will learn about:
pre-printing considerations
design guidelines
how to properly calibrate the printer to achieve a desired application
printing workflow
post-processing and finishing techniques
maintenance and troubleshooting
The program consists of:
A 2-day training event at Stratasys with an expert trainer.
A final certification exam.
Objective of this Training
By the end of this course, participants will have advanced skills and knowledge of printer operations such as:
Identifying the proper material for their print to meet a designers' guidelines
Implementing best practices for tip / printhead replacement
Understanding support orientation and how to do the proper setting for your application
Maximizing printer uptime
Upon successful completion of the certification training, participants will have an advanced understanding of a key AM technology and be able to operate and maintain their Stratasys FDM printer to maximize printer uptime and print parts to their fullest potential.
Contact Info
For more details and registration: