F770 3D Printer Support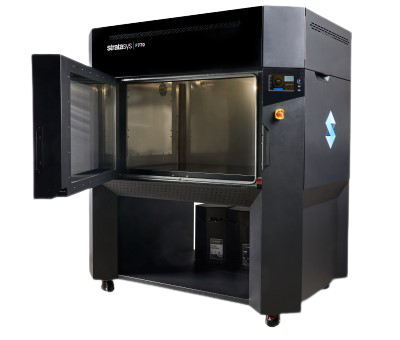 The F770™ offers one of the largest print volumes among Stratasys FDM® systems. With over 13 cubic feet of build volume and the widest build chamber (X direction) of any Stratasys FDM printer, the F770 provides the capability to build large parts or sizable assortments of smaller parts.
The F770 features industrial-grade technology for consistent, reliable performance and accurate results. Available model materials include two industry standard thermoplastics available in three layer thicknesses (slice heights). Soluble support material enables complex designs and hands-free post-processing.
AC Power Requirements

3 phase
208V
30A
5 wire
47-63Hz frequency
LAN Requirements

Required for communication and file transfer functions.
100 base T, Ethernet protocol, RJ45 connector.
Either DHCP or Static IP configurations.
Head Ribbon Cables Removal and Installation - F770
Learn how to remove and install the head ribbon cables on an F770 printer
Carriage Board Removal and Installation F770
Learn how to remove and install the Carriage Board on an F770 printer.