FDM 200mc 3D Printer Support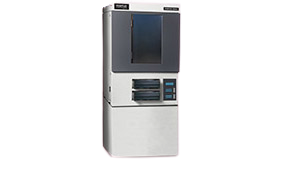 The Stratasys FDM 200mc 3D printer is designed with ultimate simplicity in mind. It allows you to build parts quickly, even if you have never used a modeler before.
The Stratasys FDM 200mc has a build envelope of 203 x 203 x 305 mm (8 x 8 x 12 in). Each material cartridge contains 922 cc (56.3 cu. in.) of usable material. This is enough to build continuously for about four days without reloading.
AC Power Requirements

110-120 VAC, 60 Hz, 15 A min. (20 amp recommended)
or
220-240 VAC, 50/60 Hz, 7 A min. (10 amp recommended)
LAN Requirements

Ethernet 10/100 Base T network
Network patch cable with RJ45 connectors