J35™ Pro 3D Printer Support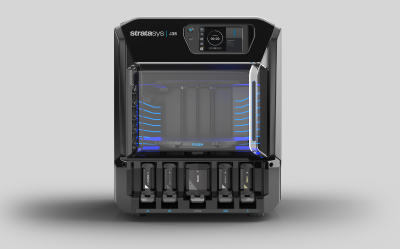 Introducing the Stratasys® J35™ Pro. Based on the J55™ Prime rotating tray platform, the J35™ Pro is a Low cost PolyJet 3D printing solution suitable for shared office environment with multi-material capabilities for functional design & concept modeling. The new 3D printer includes state-of-the-art print abilities with the combination of Rubber-like shore (Elastico™), High Impact (Digital ABS), Rigid Ultra Visual (VeroUltra™, DraftGrey), Translucent (VeroUltra™ClearS) and Bio-Compatible (Vero™ContactClear) materials. Compact printer size enables easy installation in the office and with the ProAero filtration system the working environment is completely odor free. .
The build tray has a printing area of 1,174cm2 and max model height: 155 mm (6.1 in.)
AC Power Requirements

50/60 Hz
100-240 VAC
10A, 1 phase
Using Long Print Modes - J3 Series Operation Procedures
Advanced Print Head Optimization - J3 Series Operation Procedures
Learn how to optimize the J35 print heads.