Objet1000 Plus 3D Printer Support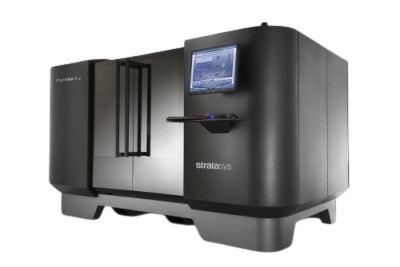 The Stratasys Objet1000 Plus 3D printer uses special technology to print models simultaneously with different model materials. Printing models with combinations of basic materials (digital materials) enables you to choose from a wide range of mechanical properties—from flexible to rigid—and colors. It is also possibly to print models made from different materials on the same build tray in the same print job and quickly alternate printing jobs using the model materials loaded.
The Stratasys Objet1000 Plus has a build area of 1000 x 800 x 500 (39.3 x 31.4 x 19.6 in) with a maximum model tray weigh of 135 kg (297 lbs).
AC Power Requirements

230 VAC
50–60 Hz, 1 phase
8A
LAN Requirements

Required prior to printer installation.
Materials

Digital ABS Plus
Rigur and Durus
Tango
Transparent
SUP705 Support
Applications

Jigs and Fixtures
Rapid Prototyping
Users looking for maximum production
Connex - Print Head Replacement
PolyJet Printers - Coating Parts