Fortus 380mc 3D Printer Support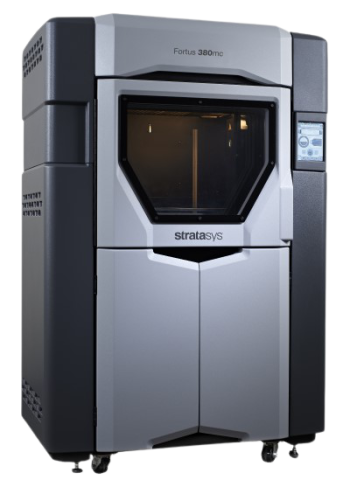 The Stratasys 380mc 3D printers incorporate the latest in innovative technologies to provide you with precise prototypes from a CAD design. Stratasys' Fused Deposition Modeling (FDM) technology provides prototype parts, including internal features, that can be used to field-test form, fit, and function.
The Stratasys 380mc 3D printer has a maximum build area of 14 x 12 x 12 inch (356 x 305 x 305 mm). It has two material canister bays; one for model and one for support.
AC Power Requirements

50/60 Hz
120/208 VAC
18A
LAN Requirements

Required for communication and file transfer functions.
100 base T, Ethernet protocol, RJ45 connector.
Either DHCP or Static IP configurations.
Bonding with Epoxy for FDM Printers
Polishing with FDM Printers